Access the Consumers' Checkbook's online guide to Health Plans for Federal Employees and Annuitants. This guide is an innovative way to obtain reliable, useful information about the many health plans available under the FEHB and make fast, easy, personalized plan comparisons. NTEU members use this guide to compare and rank plans based on total costs including account premiums and estimated out-of-pocket costs (e.g., deductibles, co-payments, and prescription drugs); and on the yearly maximum that an enrollee could possibly have to pay out-of-pocket. The guide will also offer comparisons of the FEDVIP dental and vision plans available to federal employees. Members can compare plan costs, review quality ratings, consider plan features, and gauge plan flexibility on issues like choice of doctors and other factors.
This link will remain available throughout 2018 for NTEU members who are new hires or are current enrollees with a qualifying life event change.
NTEU members are eligible for a discouted subscription to Consumers' CHECKBOOK magazine. Consumers' CHECKBOOK is a non-profit that rates local service providers for quality and price in seven local markets. Find out the best auto repair shops, plumbers, veterinarians, dentists, carpet cleaners, roofers, and much more.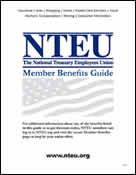 This is the official NTEU Benefits Guide, in .pdf format. You may print it out or just peruse while you're online. (If you are reading it online on an IRS computer screen, do not color on it!)
Special member only benefits
NTEU offers many extra benefits, only available to its members, that take advantage of low group rates, such as auto, professional liability, long-term care, and other forms of insurance, and discounts on consumer goods, moving expenses and much more! In addition, all NTEU members in good standing are automatically covered by a free $1,000 accidental death and dismemberment insurance policy.
Members can also choose from the following programs:
Hospital Indemnity
Universal Life
Critical Illness
Short-Term Disability
Cancer Insurance
Professional Liability Insurance
Accidental Death and Dismemberment Insurance
Auto & Home Insurance
Credit Card
Banking
Consumer's CHECKBOOK Magazine
For more information about NTEU benefits, visit the Chapter 247 office. Mae Brown is our local Benefits Coordinator.