Setting the pace. NTEU Chapter 247 has been setting the pace for activist union chapters in the public sector for well over a decade. Growing in stature as well as membership, Chapter 247 hits its goals in every area.
Legislative Action
One Big Union
Our Members
Outreach
---
MIDNIGHT Saturday, Dec. 22, 2018
SHUTDOWN!
On December 22, 2018, the federal government was again shutdown, this time for a record 35 days, and Chapter 247 President Eddie Walker gave a tour of the empty employee parking lot to a television reporter. During the shutdown, Chapter 247 members were in the news:
Amid shutdown, Austin-based federal workers struggle.
Why Chip Roy voted against back pay for federal workers.
Chapter 247's annual party becomes a cause against the bad guys.
---
Legislative Action
Chapter 247 Stages Another Successful Legislative Party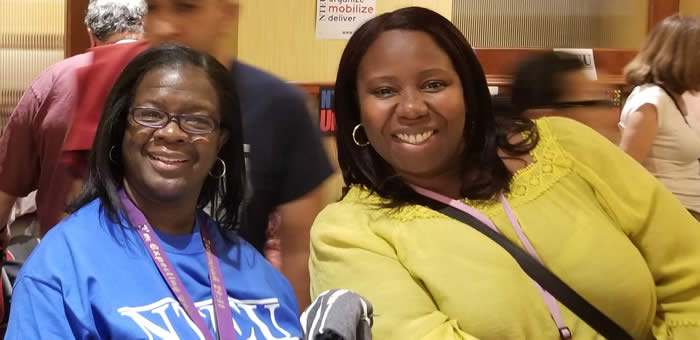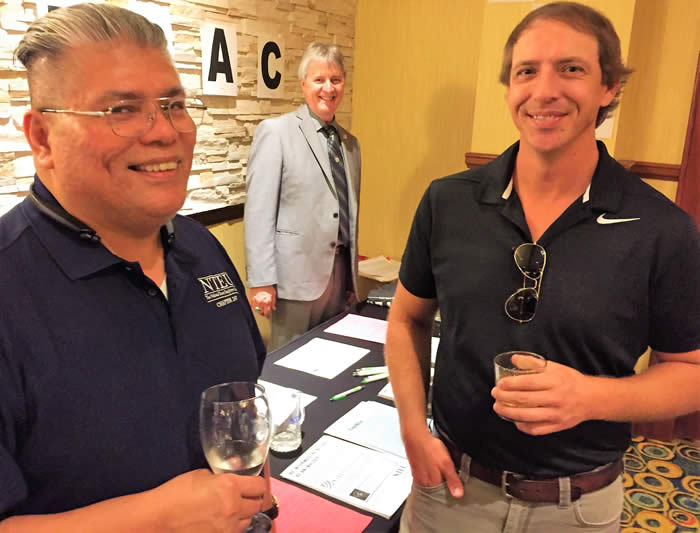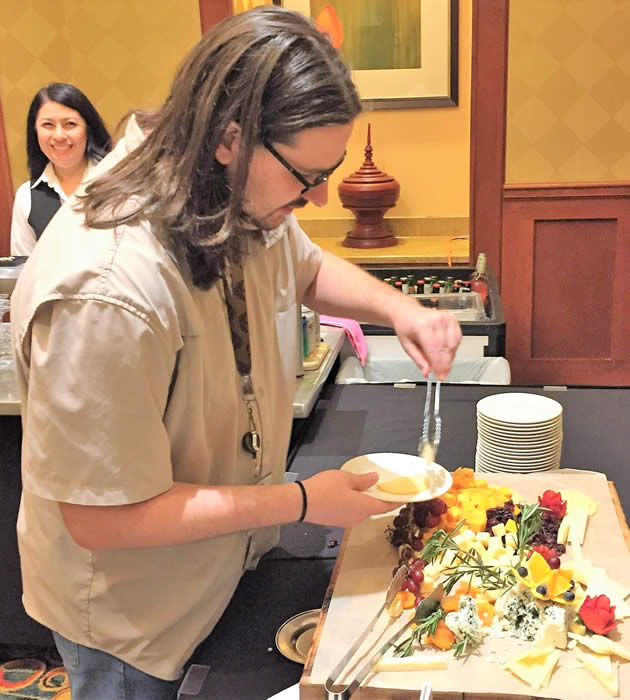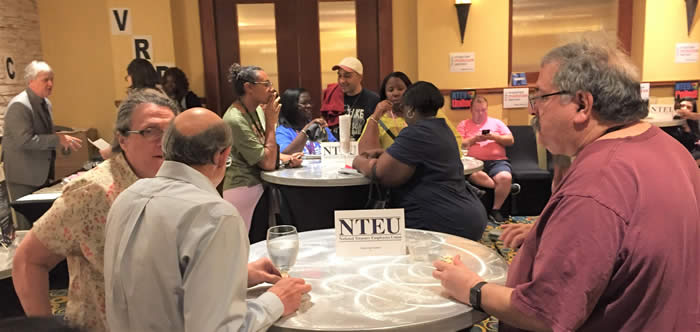 NTEU Chapter 247 brought its members and their families to the Austin Marriott South for a reception with a high-powered guest speaker and legislative information.
---
Tuesday, Oct. 1, 2013
SHUTDOWN!

On October 1, 2013, the federal government was shutdown by Congress for the first time in 17 years.
Chapter President Eddie Walker had this to say.
---
Friday, Mar. 1, 2013
SEQUESTER!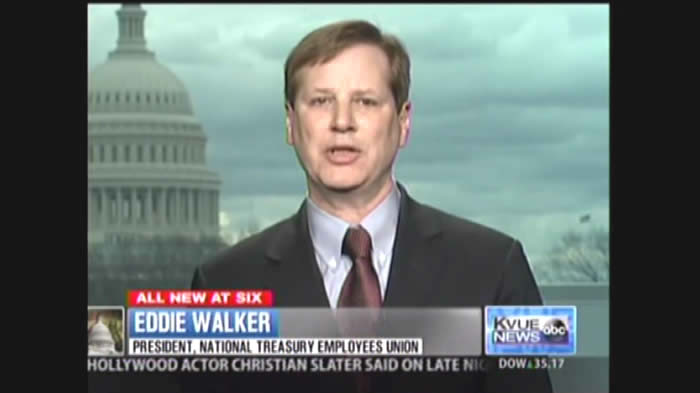 Chapter President Eddie Walker Defends Federal Employees on Austin's KVUE-TV.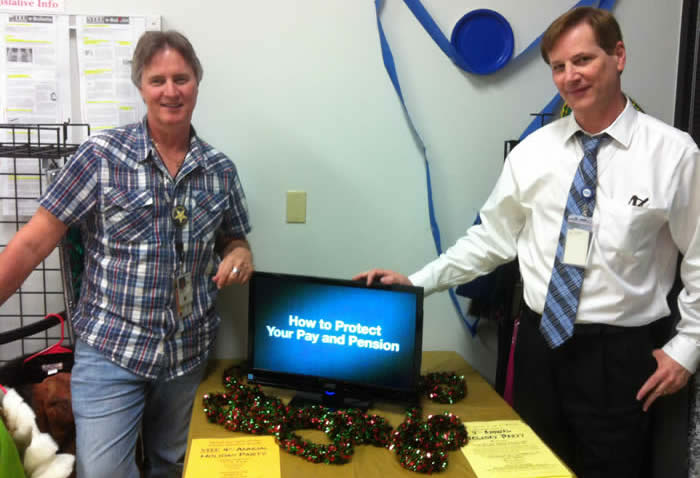 Eddie and Executive Vice President Russell Bokelman tell Chapter 247 employees how NTEU is fighting the sequester in the legislative arena.
---
NTEU's National Legislative Conference, Washington, DC
Chapter 247 took its fight in favor of public employees to Washington, DC in February. Closest to Texas Rep. Joaquin Castro are Chapter 247 President Eddie Walker, National Vice President Julia Miller, and Executive Vice President Russell Bokelman, who along with other members of the union's Texas delegation, lobbied Congress and rallied with NTEU leaders from around the nation.
NTEU's annual National Legislative Conference always attracts Washington movers and shakers, who attempt to captivate chapter leaders with their...moving and shaking.
Julia Miller and Russell Bokelman (above) join their fellow chapter leaders in showing R-E-S-P-E-C-T to NTEU's guest speakers (below, left and right), Congressmen Joe Crowley (New York) and Mike Quigley (Illinois).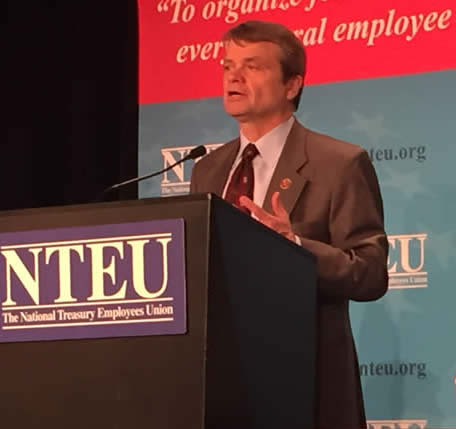 Russell grabs a rare opportunity to rest before leading the Texas delegation in another lobbying mission...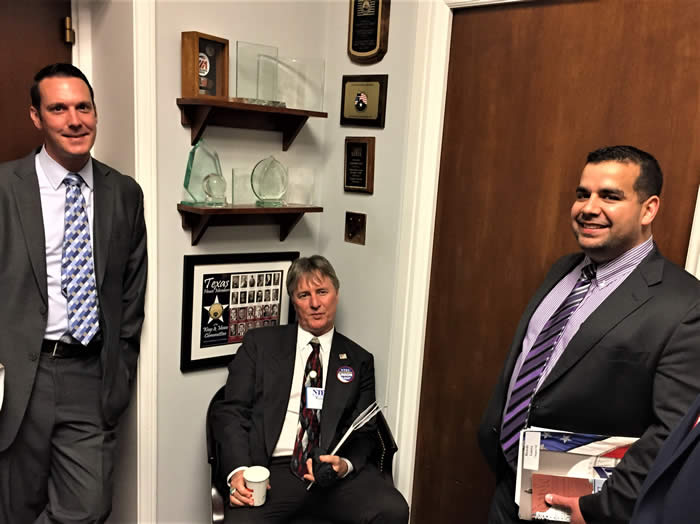 Eddie hops a ride on the Capitol subway system used by Congresspersons and their guests...NTEU has a lot of information to impart to Congress, and too little time.
Congressman Chris Van Hollen (Maryland) was a regular at NTEU events for years. Now, he's a US Senator, and he's not about to miss NTEU's Capitol Hill Rally 2017 (below).
Promoted by Maryland's voters, newly-elected Senator Chris Van Hollen regales NTEU leaders with an entertaining dose of Van Holl-ering!
Julia and Eddie have a strong message for you.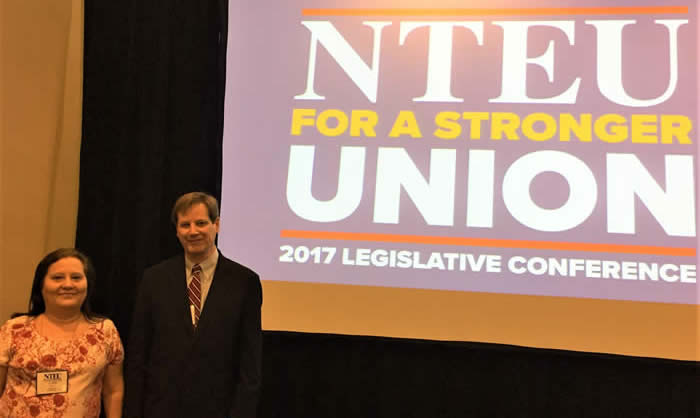 Massachusetts Senator Elizabeth Warren visits Austin, and is always happy to see a friendly NTEU face. NTEU represents the employees of the Consumer Financial Protection Bureau, the agency conceived by Senator Warren.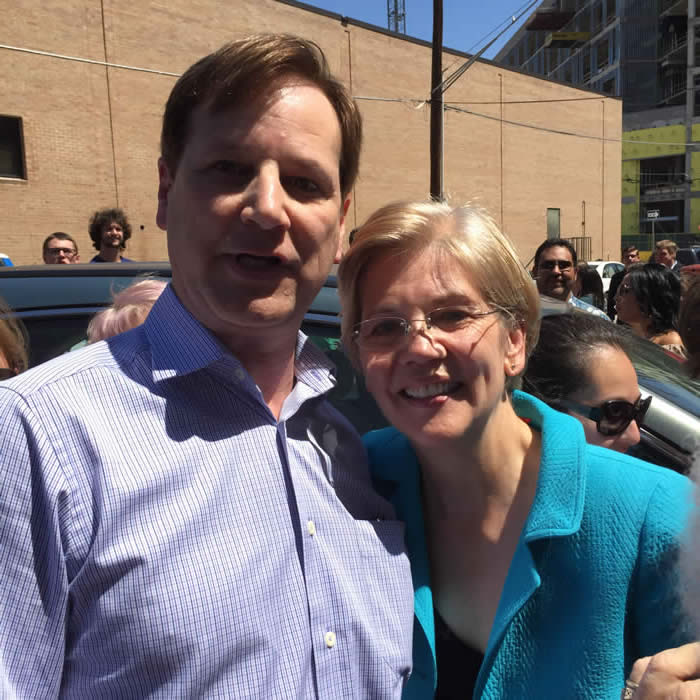 Eddie celebrates the birthdays of past Chapter 247 honoree, Congressman Joaquin Castro, and his twin, HUD Secretary Julian Castro. Which brother is Eddie talking to? Can you tell?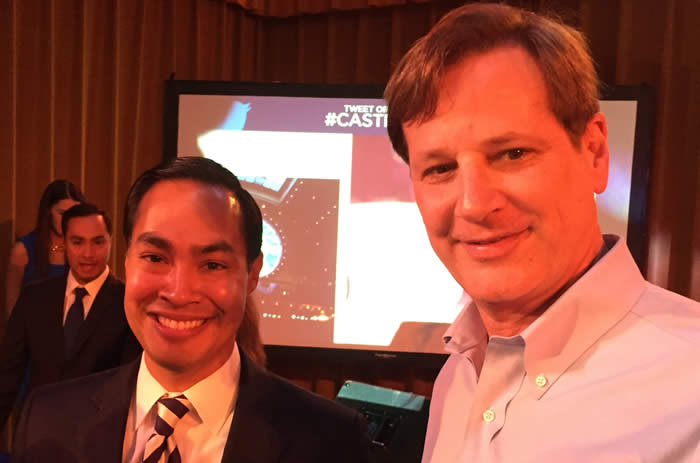 Stewards Kim DeShay and Juanita Atkins (below) work off the clock to make sure NTEU members are hip to the latest legislative issues. Kim and Juanita, along with Chapter 247 Stewards Patricia Moreno, Lolo Sledge, Brenda Ramirez, Rebecca Bird, Greg Roberts, Carl Davenport and Steven Adams have won first place honors for helping NTEU's national outreach efforts five years in a row!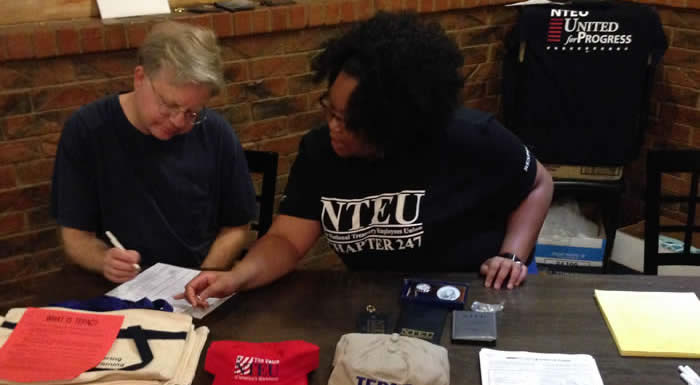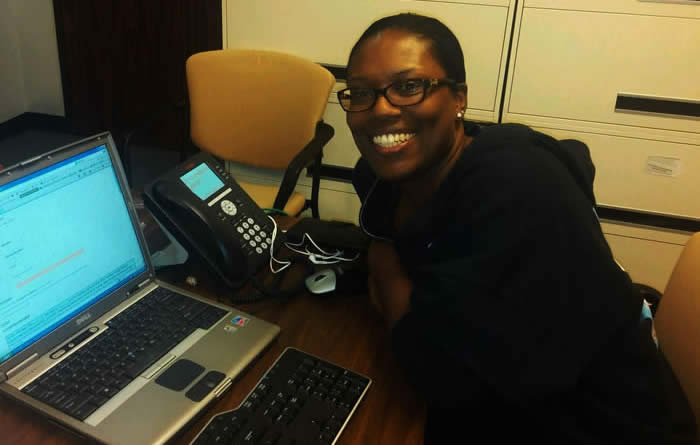 ---
"Wisconsin Is Our Fight!" Chapter 247 Stands Up for Government Workers
Saturday, Feb. 26, 2011
A rally in support of public employees fighting labor-bashing efforts in Wisconsin drew thousands to the Texas Capitol. The rally was one of 66 held across the nation on that day. Chapter 247 President Eddie Walker was among the invited speakers (at the podium below). Other guests included Texas firebrand Jim Hightower, U.S. Representative Lloyd Doggett, and Texas AFL-CIO President Becky Moeller. Chapter 247 members were there, carrying their NTEU signs high ("Fair Treatment Now"/"NTEU Backs Employees" among them). What did Eddie have to say?
Click here to see Eddie's speech on YouTube.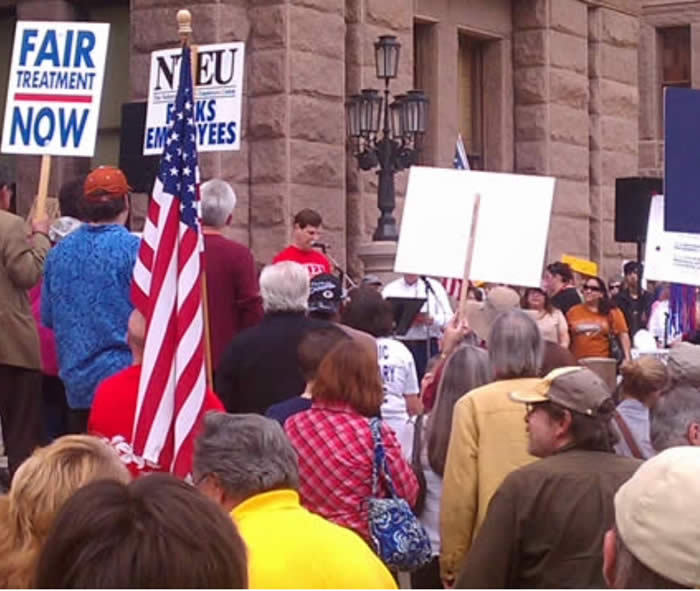 Jim Hightower (below left) and U.S. Representative Lloyd Doggett (at the mic) take their turns working up the crowd.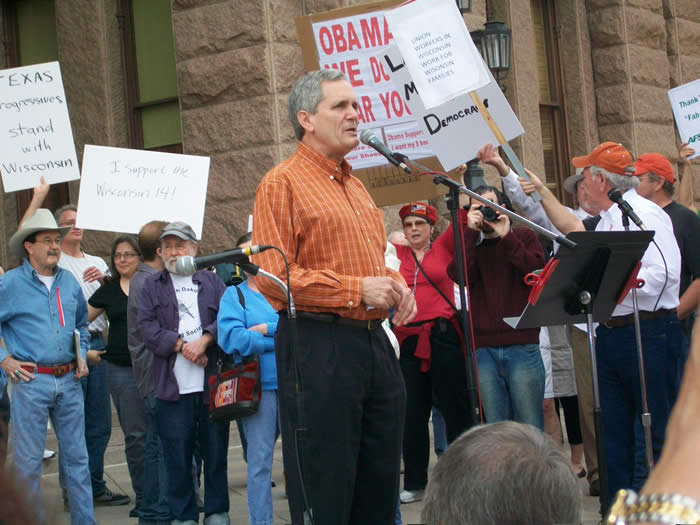 A number of Chapter 247 notables were on hand to pitch in, including (in order, below) Nathan Wheeler, Sal Macias, Julia Miller, and Abraham Torres-Mendoza—surrounded by a cast of thousands.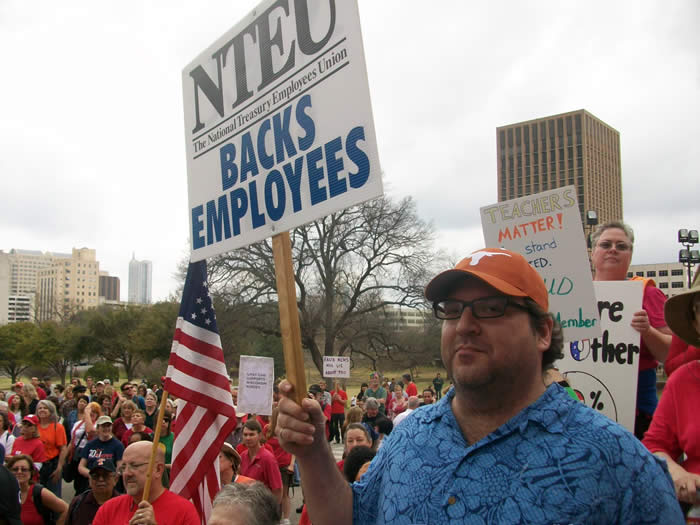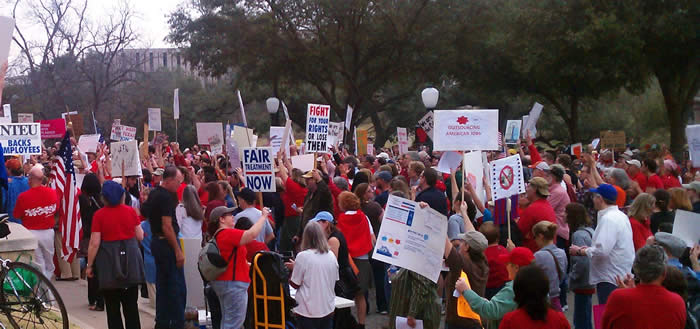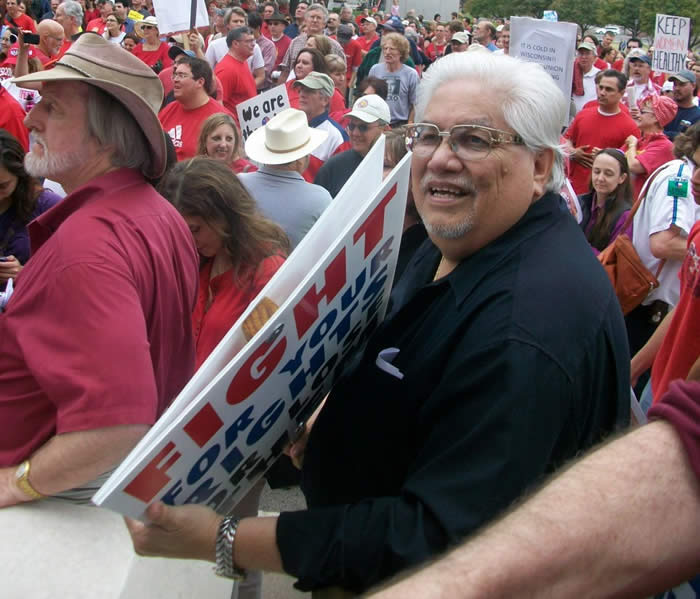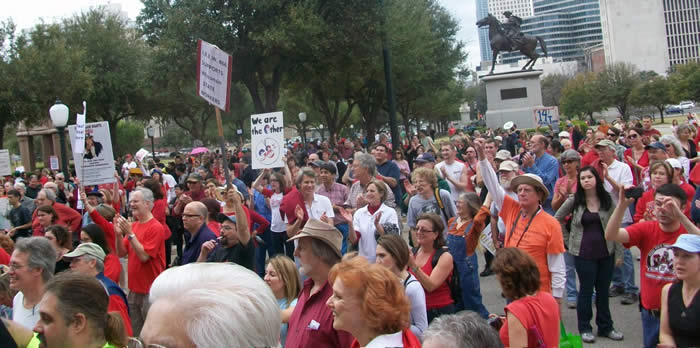 Monday, Feb. 21, 2011
Chapter 247 members have increased visibility for NTEU in Texas. The Daily Texan, University of Texas: "Supporters of worker's rights in Wisconsin lead a candlelight vigil (below) at the Texas AFL-CIO building at Lavaca and 11th streets on Monday. Attendees marched to the Capitol steps in protest of Wisconsin Gov. Scott Walker's bill to limit bargaining rights for public employees."—Chapter 247 President Eddie Walker holds the sign, "NTEU Supports Families," and National Vice President Julia Miller's sign is "Fight for your Rights or Lose Them."
Monday, Nov. 29, 2010

In 2010, Chapter President Eddie Walker opposed a freeze on federal workers' pay.
Click here to see what Eddie had to say about this controversial issue.
FINALLY! It took until 2015 for federal employees in Austin to achieve an increase in locality pay. By 2017, we started to see a positive impact on our pay. 2018?
One Big Union
Here it is—the 2019 IRS/NTEU National Agreement. Click here to check out the 2019 Contract, in effect now.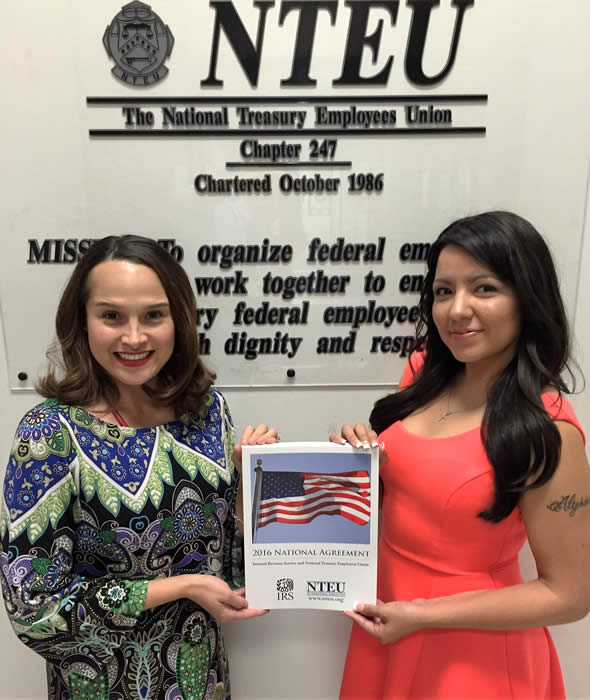 Chapter 247 folks hang out together (below).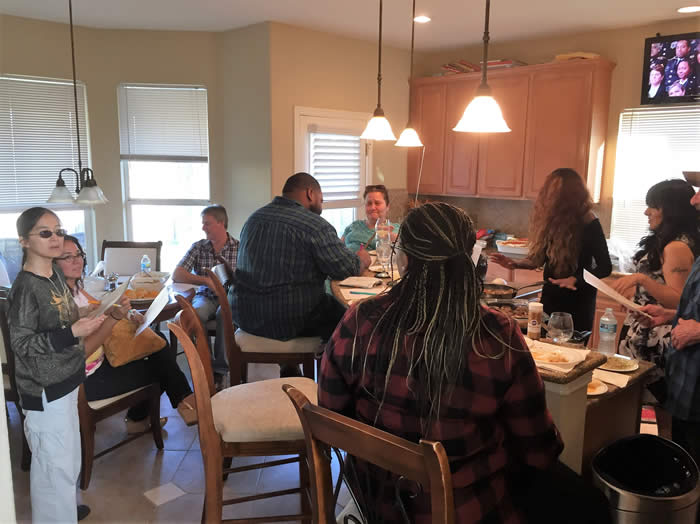 ---
National Training 2017: Las Vegas
Chapter 247 took its awesome Steward Team to National Training this year. Once again, 247 stood out for its enthusiasm and professionalism. The Chapter received recognition for its continuing high level of membership and won first place honors for its fundraising powers (for the fifth year in a row!).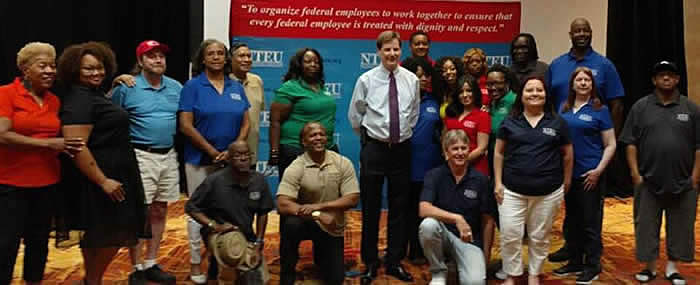 Chapter 247 Stewards compete for the title of "Winner, Most Studious (right)."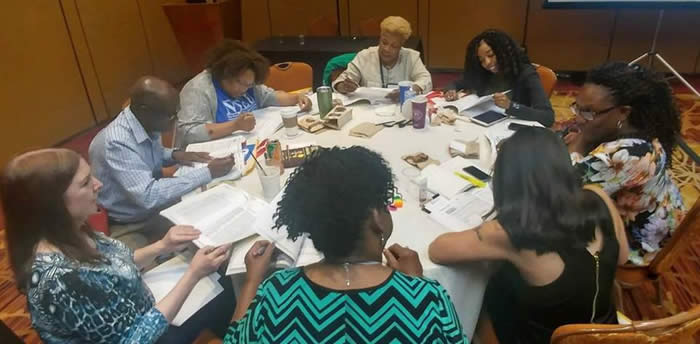 NTEU National President Tony Reardon gave special shoutouts to top legislative boosters and Chapter 247 Stewards Carl Davenport and Steven Adams.
Teeming with teamwork!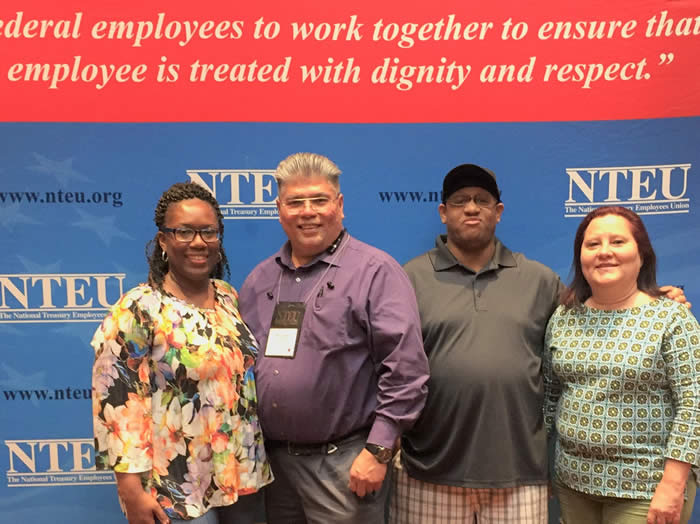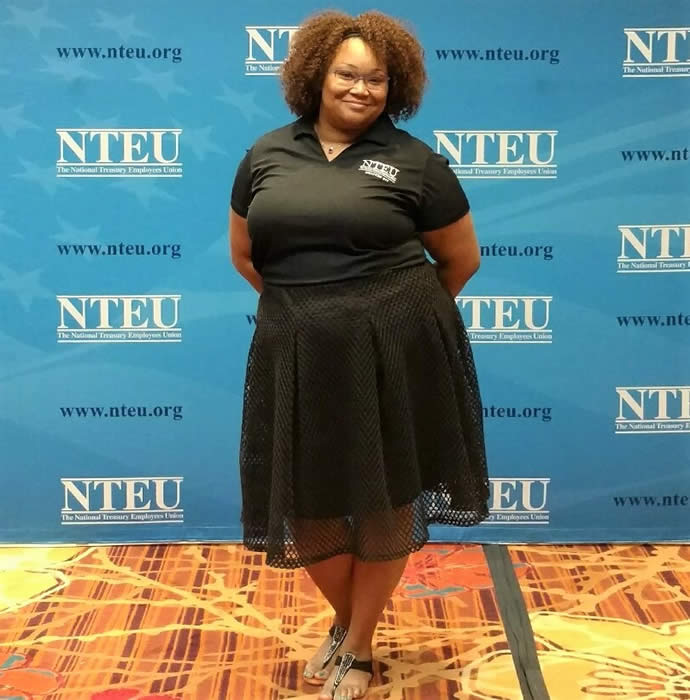 ---
Chapter 247 Celebrates 75 Years of NTEU
Chapter 247 Delegates, President Eddie Walker, First Vice President Tonia Gilmore, and Executive Vice President
Russell Bokelman stand up for America at the NTEU 54th National Convention in Boston.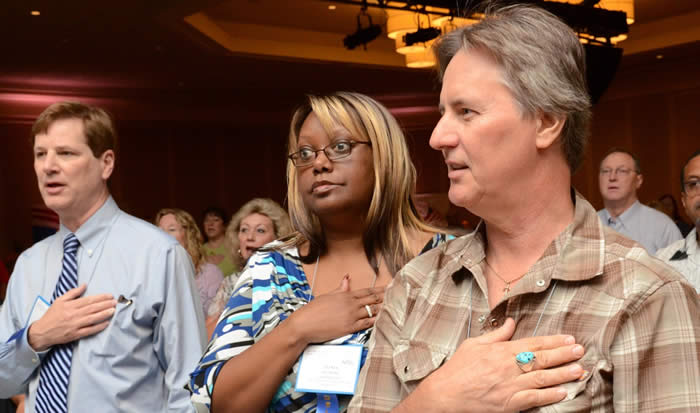 The members of Chapter 247 stand up for Boston as Eddie ties a message of solidarity from the Chapter to the fence at
Boston's Arlington Street Church. Boston Strong!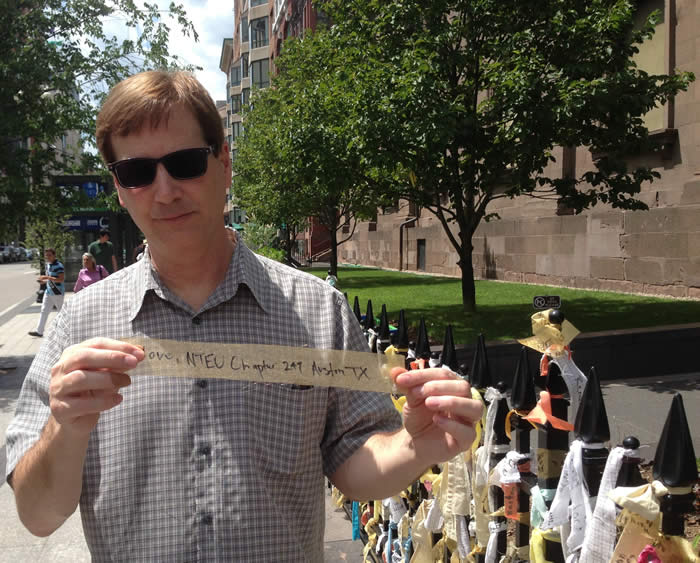 Chapter 247's Julia Miller (third to the right of lecturn) joins NTEU National President Colleen Kelley and journalist
David Gergen on the dais at the convention. Julia is elected to her third term as National Vice President in Boston,
adding to Chapter 247's celebration of 75 years of NTEU. (Recently, Julia earned her fourth NVP term.)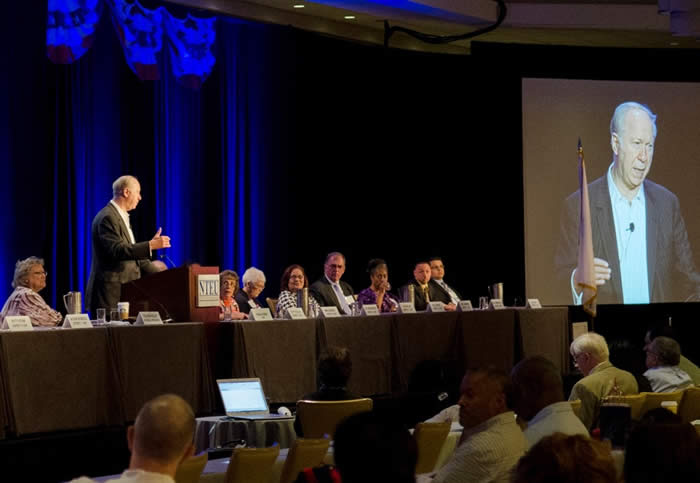 In honor of NTEU's 75-year history, Chapter 247 designed these fashionable shopping bags. Dozens of members
sent in selfies, qualifying them for a drawing that awarded $247 in cash (as in Chapter 247) to the winners.
The winners of the 75 Years of NTEU Contest: Sandra Mizell and Angela O'Quinn!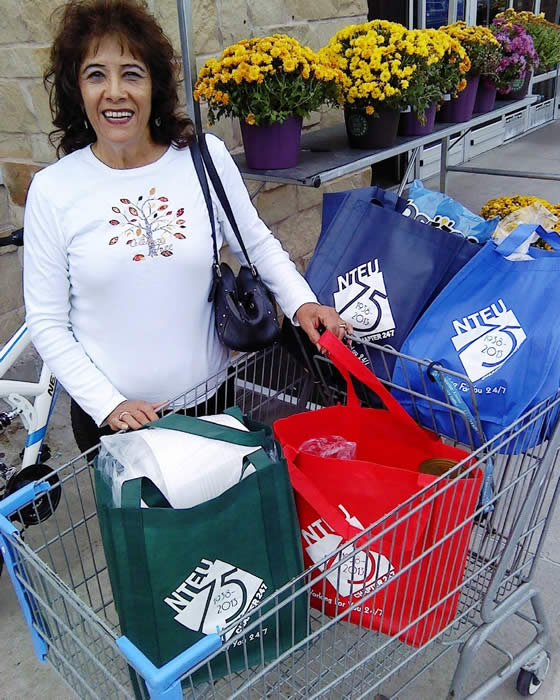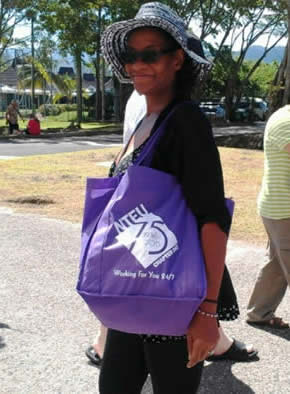 As NTEU advances through its eighth decade, Chapter 247 is observing its 30th year in 2016. Seven Chapter Presidents—representing 247 and its sister Austin Service Center chapter, Chapter 72—assemble here (below) to honor the past. From left to right are former Chapter 72 Presidents Betty Walker and Darla Pittman; current Chapter 247 President Eddie Walker; Chapter 247's very first President, Mary Kochan; former 72 Presidents Jerry Harlow and David Travis; and past 247 President Ned Cooney.
Ten years ago, in 2006, the Service Center Chapter Presidents met at NTEU Headquarters in Washington with National President Colleen Kelley (below). The only presidents in this picture remaining are Chapter 247 President Eddie Walker (back row) and Chapter 284 Atlanta President Brenda Elam-Brown (front, second from right).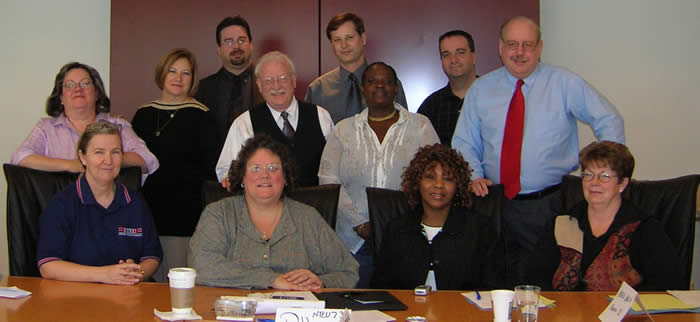 Our Members
Chapter 247 Picnic a Blast!
NTEU Chapter 247's Picnic 2019 brought 200 members and their families to Fiesta Gardens
for food, games, and fun. Hamburgers and hot dogs were satisfying comfort food, and broccoli was
served up with all the spices, in the form of spirited legislative information and guests!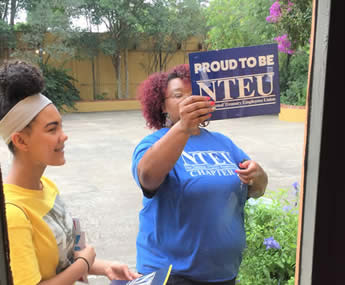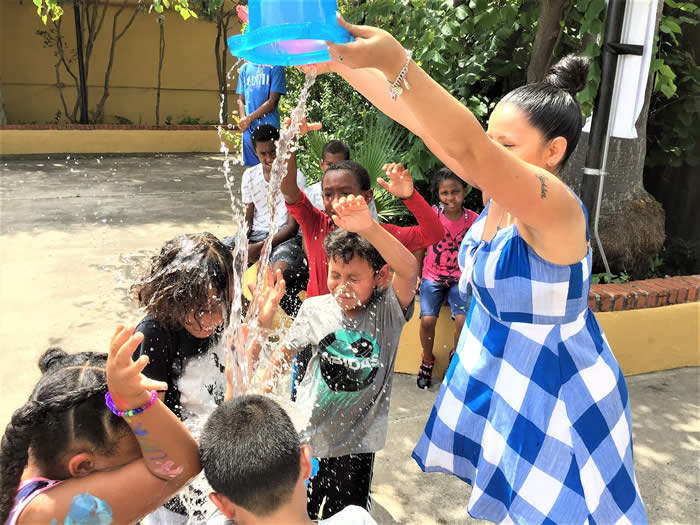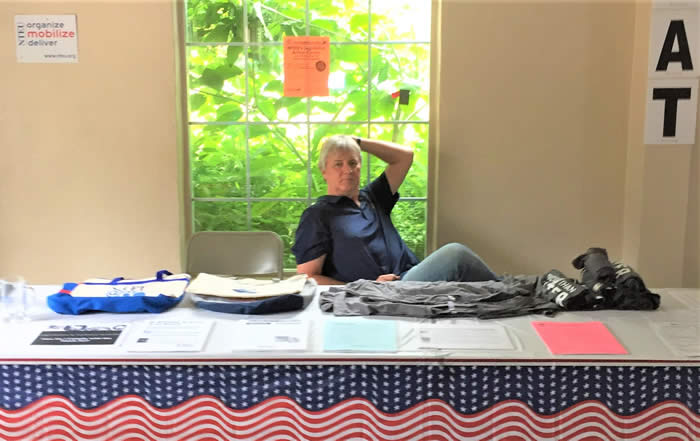 ---
Another Magical Night: Chapter 247's 8th Annual Holiday Party

Chapter 247 held its 8th Annual Holiday Party on December 10, at the Holiday Inn Austin - Town Lake. The night out was the biggest and best yet.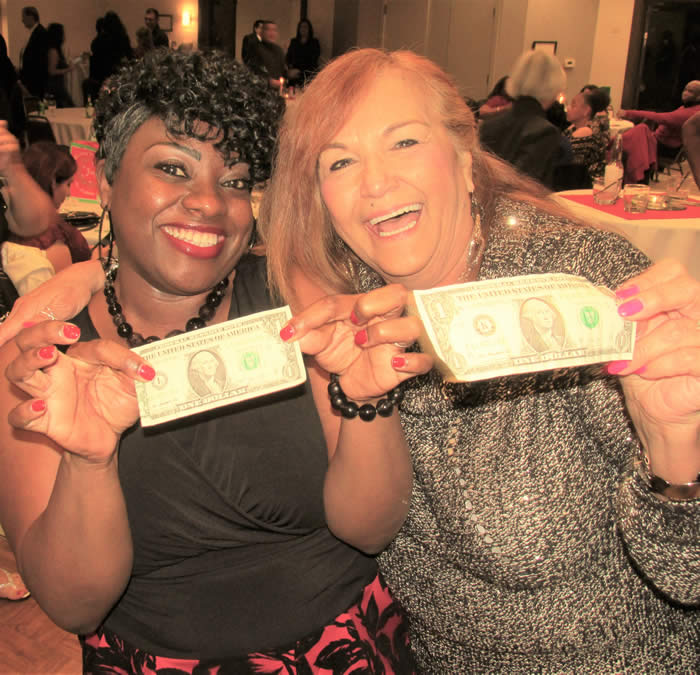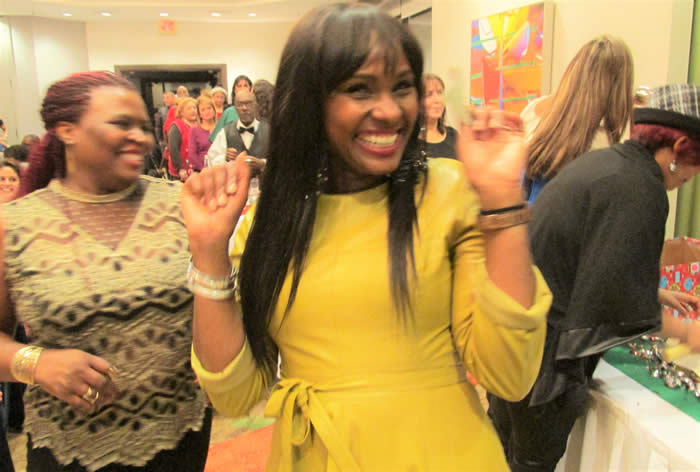 ---
Cruisin' Together on Lady Bird Lake
One beautiful day in May, 100 Chapter 247 members went cruisin' together on a 70-foot, double deck boat on Lady Bird Lake. $10 bought unlimited barbeque, drinks, and dancing, and the scenery upon the lake was even better!
The weather couldn't have been more perfect for Chapter President Eddie (Walker) and the Cruisers, and a major highlight of the three-hour tour was the mystery surrounding the legend of the Congress Avenue Bridge. Would the famous bats living under the bridge show themselves at sunset? And would they make their appearance on cue, while the boat was gliding precariously beneath the bridge? Find out by visiting our Highlights page.
---
Cinco de Mayo 2017
Chapter 247 observed Cinco de Mayo with an employee Salsa Contest, and it was quite an event!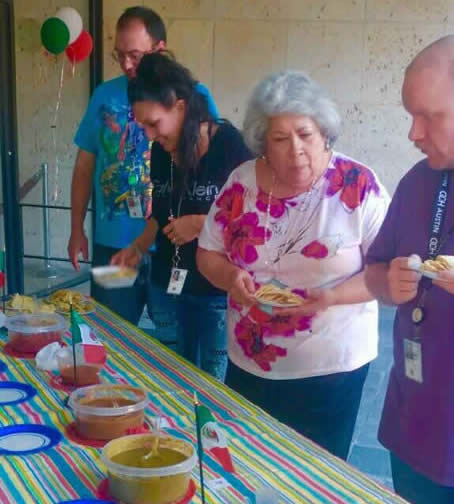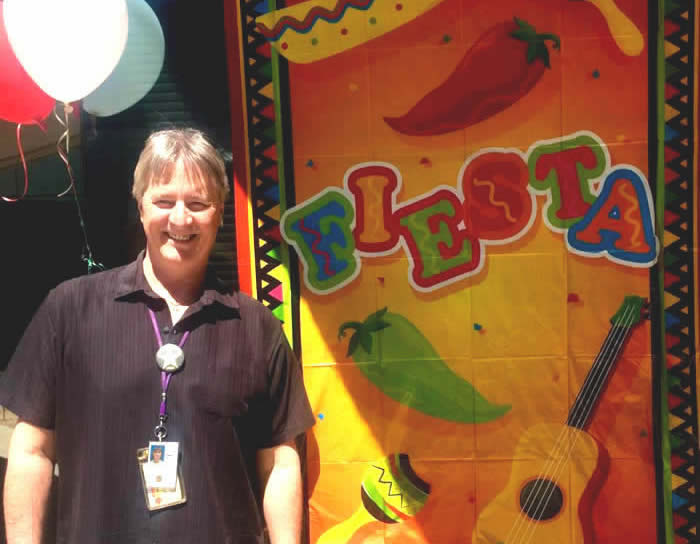 ---
Labor Recognition Week 2016
As is its tradition, NTEU Chapter 247 mixed it up during its 2016 Labor Recognition Week celebration, with a combination of food, entertainment, and legislative activity. Four-term Texas Land Commissioner Garry Mauro (below) used his time in office to expand the state's interest in protecting and preserving the environment. He used his time as Chapter 247's LRW speaker to share what he's learned as one of Texas's greatest public servants…and to press the flesh with NTEU members.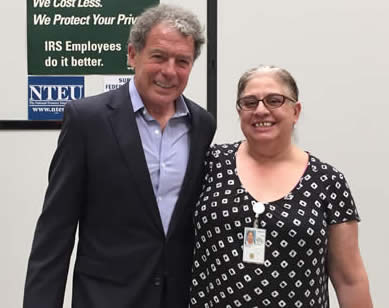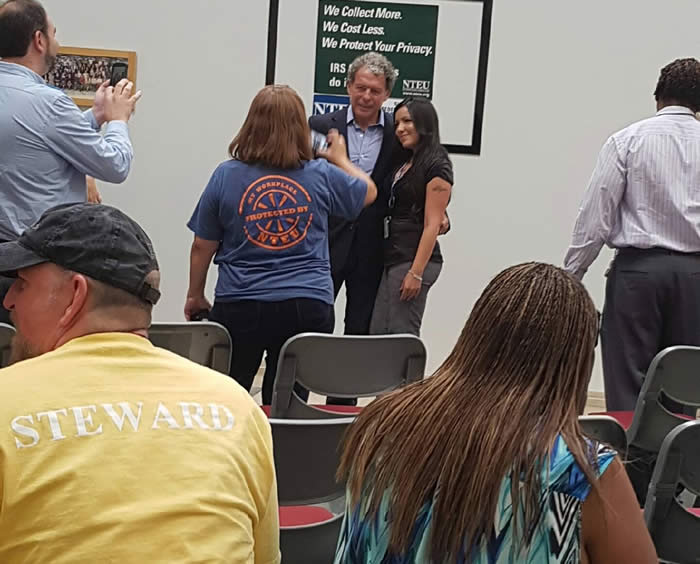 Chapter 247 staged another popular event, the annual Employee Karaoke Contest. ACS employee Doris Wilson (below) warms up the crowd. Below that, AM member Tom Eden gets support from his coworkers. Day shift winners were first place Gina Houston; Judy Renauld scored second; and Carmen Rosales took home third place honors.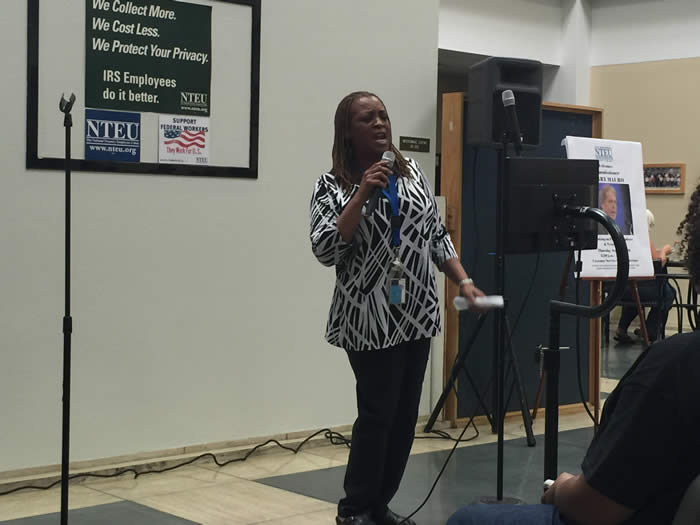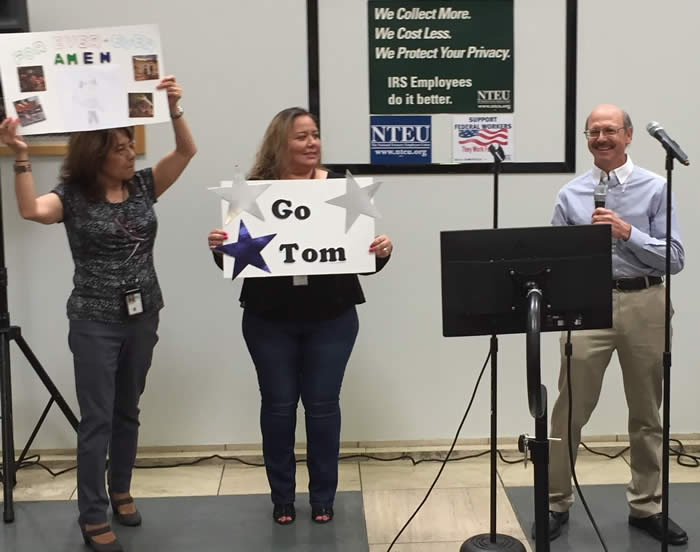 Long-running host Robert Muraida emceed, with superstar singer/showrunner Murrah Noble backing up.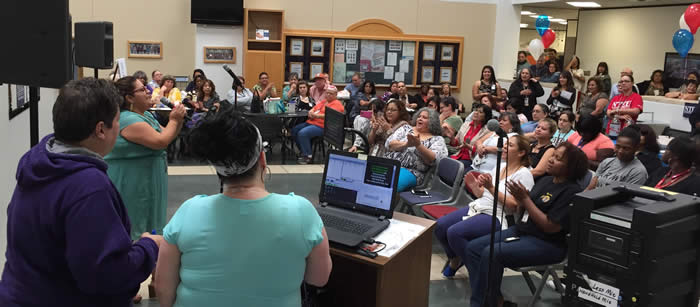 On night shift, multiple-time winner Rick Peterson (below left) of CSCO took first prize with his signature stirring performance, while Daniel Barrera of ACS won second place. Judy Neal was the third prize victor; AM's Nathan Wheeler captured honorable mention.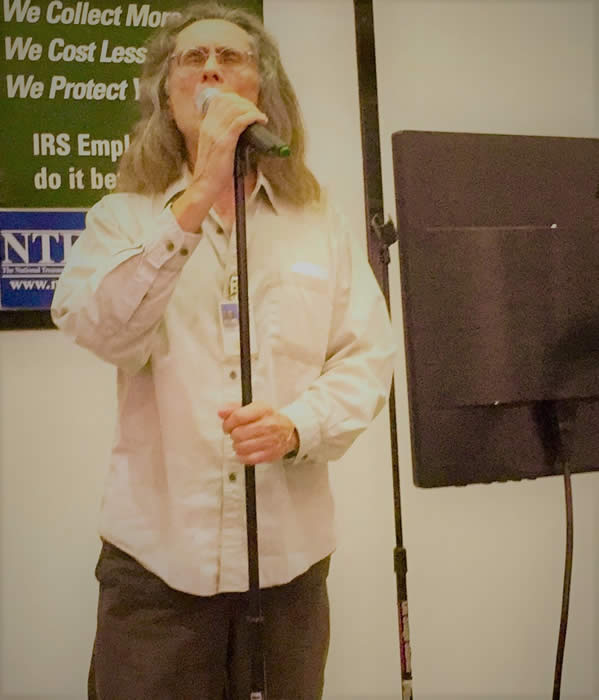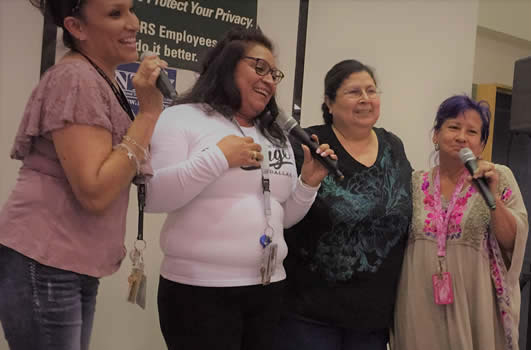 During Labor Recognition Week, Chapter 247 serves comfort food to its members. And as Gussie McMarion and Russell Bokelman demonstrate below, there are other forms of comfort...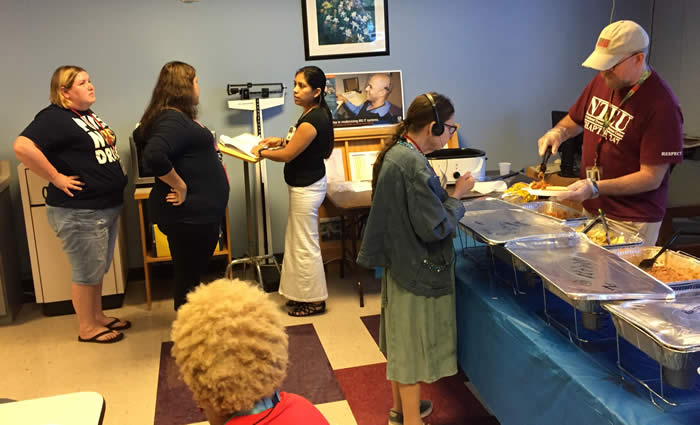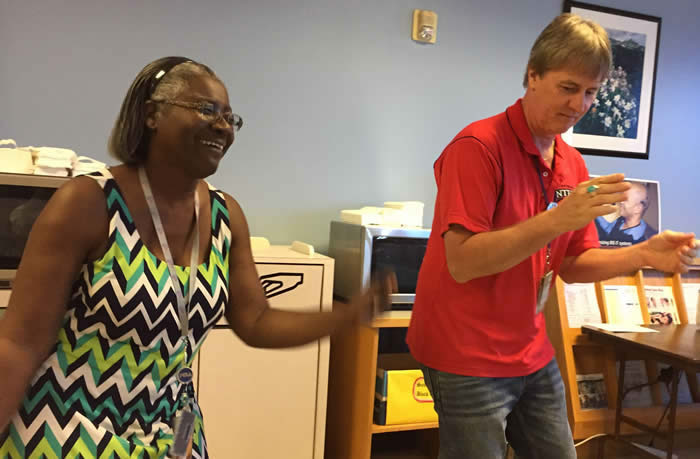 Chapter 247 has a long history of hosting dignitaries during its Labor Recognition Week. In recent years, the Chapter has presented Congressmen Lloyd Doggett, Joaquin Castro, and Henry Cuellar, as well as Texas state senators and activists Gonzalo Barrientos, Eliott Naishtat, and Dawnna Dukes. (See classic scenes from past Chapter 247 Labor Recognition Weeks here.)
President Eddie Walker (below left) and Executive Vice President Russell Bokelman (below right) introduced Steve Adler to members—including Robert Guerra (below center)—during a past Labor Recognition Week. Two weeks later, Mr. Adler became Mayor Adler.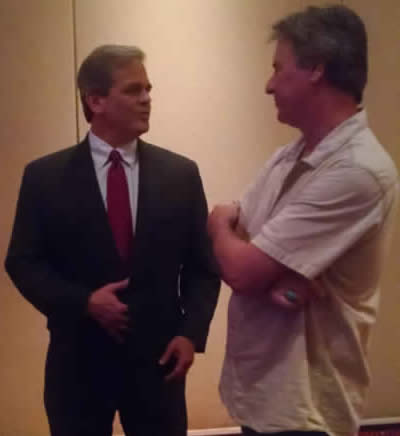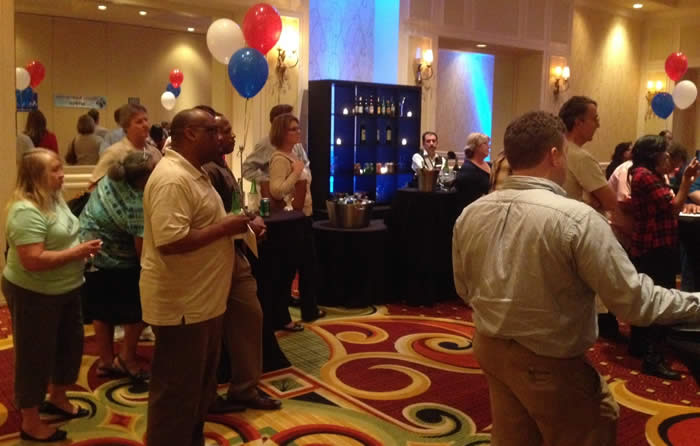 ---
HEROES!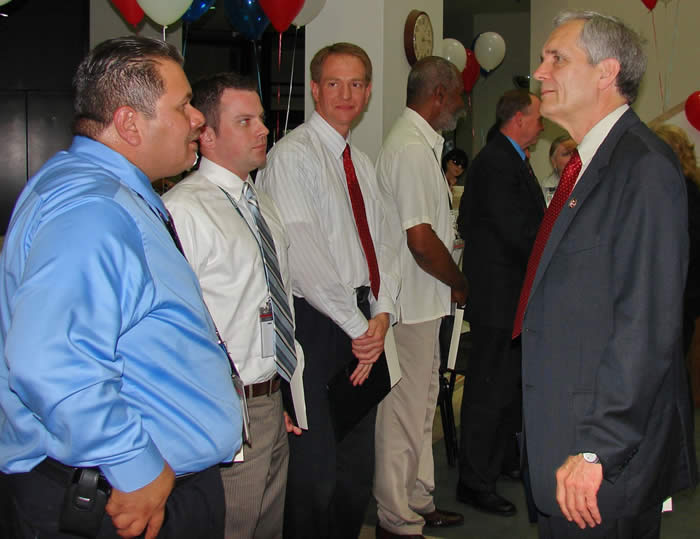 Employees who heroically plunged in to help their fellow IRS workers successfully escape when the Echelon Building they worked in was hit by hate—when, for a brief moment, hate ascended over Austin, only to fall and fail. From left to right, Alfredo Valespino, Morgan Johnson and Andrew Jacobson (Chapter 247 members before taking jobs in the Echelon), David Irving, and Richard Lee, along with (not pictured) Armando Valdez, Jr. and past Chapter 247 member Deborah Fleming—are honored by U.S. Congressman—and Chapter 247 mainstay Lloyd Doggett—in a ceremony at the IRS's Austin Customer Service Building, sponsored by Austin NTEU Chapters 52, 72, and 247 (below).
Message From Eddie Walker, President, NTEU Chapter 247, on the Echelon Attack
"NTEU Chapter 247 was shocked and emotionally shaken by Thursday's news that a plane deliberately crashed into Austin's Echelon Building filled with IRS employees. All of us are aware firsthand of the important—indispensable—job that IRS workers perform everyday on behalf of our nation. Our thoughts and prayers are with the family of IRS collections manager Vernon Hunter, who did not survive the attack. Vern was well-known and respected by those who worked with him; Vern's wife, Valerie Hunter, is a long-time NTEU member and IRS revenue officer. We also extend our sympathies to those who suffered injuries, and we recognize their service, as well as that of the employees and patriotic bystanders that assisted others during the aftermath. As became clear to all on September 11, 2001, IRS employees, in addition to their regular responsibilities, must live with the awareness that they can be made vulnerable to tragedies like Thursday's events.

"I was with family, out of town, on Thursday. Within an hour of the attack, I was being updated by Austin Campus Director Ken Corbin over the telephone. Although the Echelon employees are represented by another Chapter, Chapter 52, South Texas, there were countless text messages, e-mails, and telephone communications between the Chapter 247 staff and myself, and plenty to do. I spoke directly to Chapter 52 President, Trish Kelley, who shared with me much of the information that did not surface in the media for a couple more days. I would like for all of our employees to know that I received many, many messages of sympathy and concern from NTEU Chapter Leaders across the country, including those from Fresno, Kansas City, and Boston. Congressman Lloyd Doggett's staff called Chapter 247 to convey his support.

"In other words, although we were again reminded that our service as IRS employees is not without risk, there are also many who stepped forward without hesitation to demonstrate their concern for our well being, and their appreciation of our service. NTEU is currently meeting with Agency officials at the highest levels to address many of the concerns that employees have in the wake of Thursday's tragedy. We expect some positive results from these talks, and certainly we anticipate a greater awareness from all that Austin stands as an important city, an essential federal resource, and an outstanding community, which deserves to be valued and protected."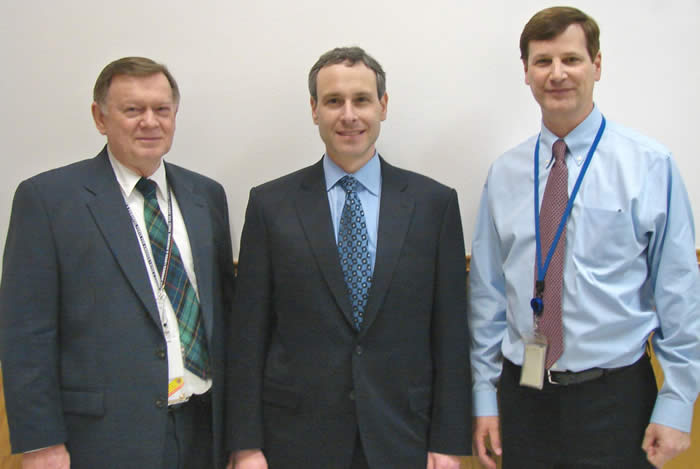 IRS Commissioner Doug Shulman (center), Chapter 72 President David Travis (left), and Chapter 247 President Eddie Walker join with Austin Campus Director Ken Corbin and IRS Deputy Commissioner Beth Tucker in a walk through of the Submission Processing Building following Commissioner Shulman's press conference in front of the stricken Echelon building in Northwest Austin.
NTEU Chapter 247 Leaders joined hundreds at an East Austin church as they gathered to honor fallen IRS colleague Vern Hunter. Click to learn more.
Read another opinion: "The Austin Tragedy and the Dangerous Myth of the IRS Out of Control," by Neil Buchanan.
Outreach
Chapter 247 Steps Up to the Plate
Chapter 247's outreach to members includes a number of events during the year, including the annual Chili Cookoff (below). Culinary-inspired employees are pitted against each other for the title of Top Chili Chef. Directors Melinda Wilson (below) and Nancy Session voted by secret ballot, along with their employees. When's the next chili contest? Isn't it time?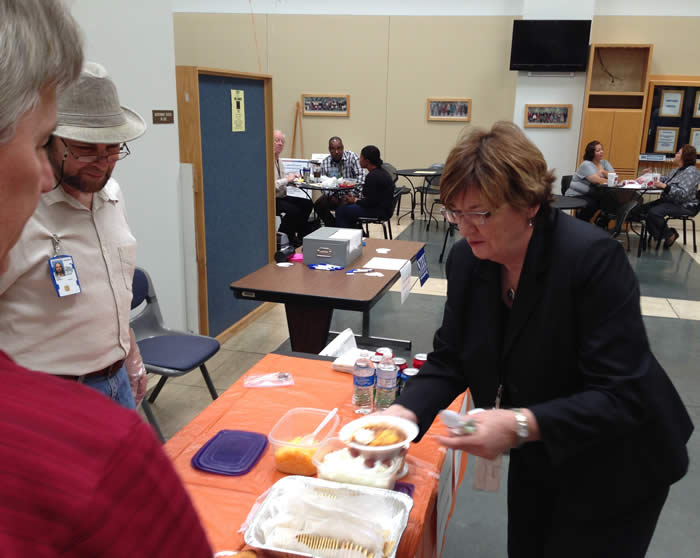 Chapter 247 stepped forward to better Customer Service Building Cafeteria service. Enlisting a partnership with Austin Campus Directors, including Justin Abold-LaBreche, Nancy Session, and Amy Stanton, the union and management joined forces to bridge the gap between the former cafeteria manager and the incoming manager. The result (see below): a combination of managers and Chapter 247 stewards served more than 650 lunches for $1 each. The operations of Justin, Nancy, Amy, and Chapter 247 pitched in with the rest of the cost.
The retirement of longtime Austin Campus institution and Chapter 247 partner, Nancy Session, created another opportunity for an awesome performance of the IRS Gospel Choir, led by super musician Patt "Praise" Jackson. Read about the long and winding history of the choir here.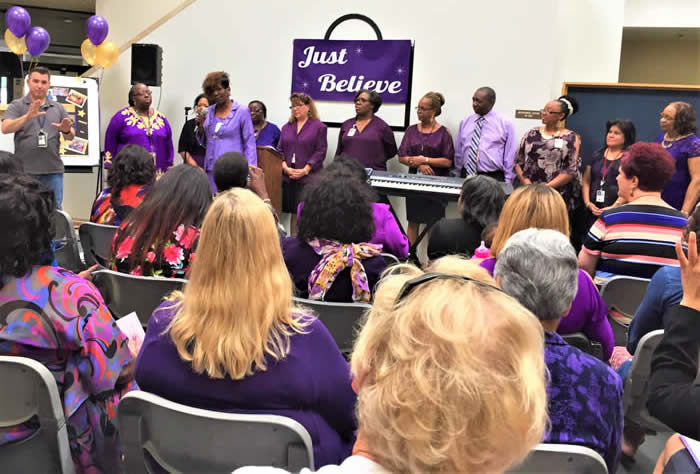 Under the leadership of NTEU Stewards Juanita Atkins and Dwayne Brown (below), Chapter 247 runs a wildly-successful Blood Drive. In addition, the chapter hosts book sales and other morale-boosters, supports charities like the Campus Committee's annual school supply drive, registers voters, and backs Austin Campus events, like Diversity Day.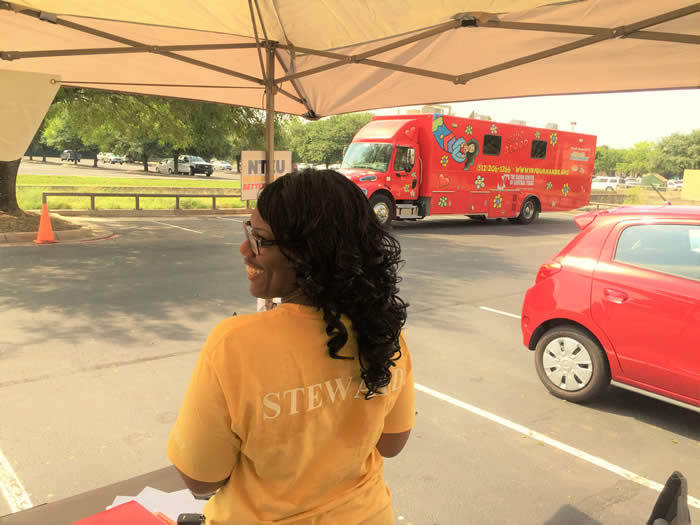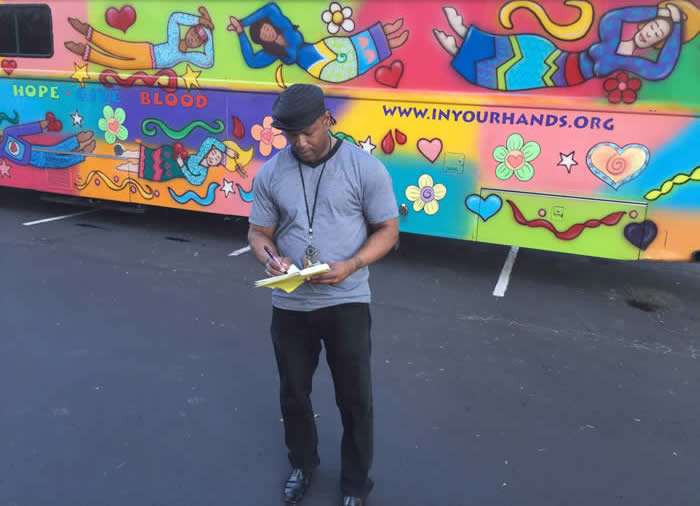 Supporters of Diversity Day, the Chapter 247 Day Shift Stewards show up to testify.
Not to be outclassed, the Night Shift Stewards demonstrate their support for Diversity Day.

---
Classic Chapter 247: PICKET! May 27, 2008
Chapter 247 has created a documentary film of its picket of employee-unfriendly actions by IRS management in Austin, "WE WON'T BACK DOWN." Click the link to watch or download the full film documentary of the event. The Future Starts Today!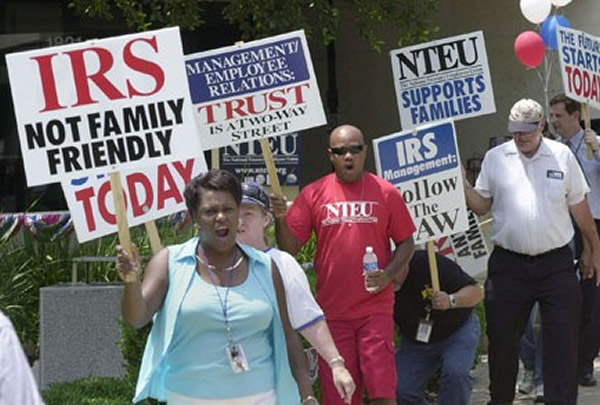 The Austin Chronicle recorded the action: "Members of Chapter 247...protested Tuesday to shed
light on their boss' refusal to allow adequate family-leave time for workers." (Photo: John Anderson)
---
Check out the NTEU Chapter 247 Newsletter. All the laughter, drama, and chutzpah of Chapter 247 have been captured and harnessed for the benefit of our bargaining unit employees. Remember: All others read at their own risk!
Visit our LINKS page to read or print out entire issues of the Chapter 247 Newsletter.