This page will put you in touch with essential contacts. Download our newsletters, sample our viewpoint, tap into our resources...
Click on this link to National NTEU. As a member, you have earned special access to corners of the NTEU Website known only to the privileged. Traffic in inside information. Keep track of your increasing Member Benefits. Speak truth to your Congressperson through NTEU's Legislative Action section. To reach Legislative Action, you can click here, but only when you're not in the workplace, to be safe!
Come back and see us when you're finished!
Check the bottom of this page for FEDERAL EMPLOYEE LINKS. They will connect you to a wealth of resources for federal employees like you.
---
QUOTEABLE CHAPTER 247
The media come to Chapter 247 when it needs answers.
SHUTDOWN!
MIDNIGHT Saturday, Dec. 22, 2018
On December 22, 2018, the federal government was again shutdown, this time for a record 35 days, and Chapter 247 President Eddie Walker gave a tour of the empty employee parking lot to a television reporter (above). During the shutdown, Chapter 247 members were in the news (below):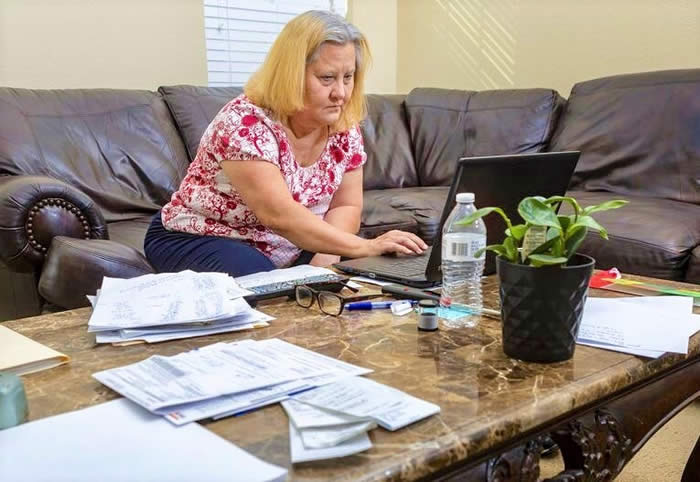 Amid shutdown, Austin-based federal workers struggle.
Why Chip Roy voted against back pay for federal workers.
Chapter 247's annual party becomes a cause against the bad guys.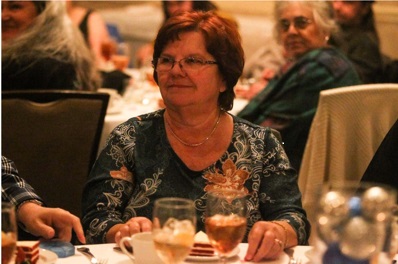 ---
DOWNLOAD NEWSLETTERS HERE
Chapter 247 published one of the most entertaining and informative employee newsletters in the nation. Click below for the NTEU Chapter 247 Newsletters in Adobe PDF format. After all, it's history!
Newsletter Issue 10 - "War is Over! …If You Want It"
Newsletter Issue 9 - "Sharks on a Plan"
Newsletter Issue 8 - "Who Leaves a Sinking Ship?"
Newsletter Issue 7 - "The Good, The Bad, and The Ugly"
Newsletter Issue 6 - "ACS Nightshift Returns"
---
ON THE RADAR

Chapter 247 has a definite point of view. Read here for highlights of controversies past and present.
"THINGS HAVE CHANGED"
by EDDIE WALKER, Chapter 247 President
Has the IRS Been Politicized?
A Return to the Bad Old Days?
"We are very sensitive to political perceptions," IRS Commissioner Mark Everson candidly told The New York Times, after an audacious E-mail demonstrating as much made the rounds of Compliance managers and their employees.
The E-mail was sent by Beth Tucker, Director of Communications, Liaison and Disclosure, SB/SE, to Jim Grimes, Director of W&I Compliance:
"Jim, we just spoke with Commissioner on the enforcement issue in the gulf…he prefers that we do not resume any enforcement action until after December 31st due to upcoming elections, holiday season, etc."
Apparently, IRS Honchos were not concerned that the Agency would be accused of being politicized in this very political season, because this E-mail traveled—uncensored—from Beth Tucker to Jim Grimes, to Compliance Directors, to Operations Managers and analysts, to Department Chiefs, all the way down to firstline managers and their employees. No government cover up here.
In fact, when the E-mail was published October 27 on the front page of The New York Times website, under the headline, "IRS Going Slow Before Election," the Commish owned up to the ethical lapse…or the political gaffe…or the "every day" occurrence, as Mr. Everson categorized it. The Commissioner admitted that he had "probably" mentioned the elections to Ms. Tucker during a conference call with senior IRS staff members.

Okay, using the word "probably" appears to be hedging a bit, but the Commish was remarkably straight-forward concerning the suggestion that he might be politicizing the Agency. Commissioner Everson took the position that postponing collections efforts was—in the words of The Times—"a routine effort to avoid casting the Internal Revenue Service in a bad light."

"'We talk about the elections here every day,' Mr. Everson said. 'We deal with the Congress—is there going to be a new Finance Committee chairman, a new Ways and Means Committee chairman…Of course, we think about whether our actions will play in the public space…'"

According to The Times, a bipartisan group of four ex-Commissioners had a different view of the Agency's actions. "Never, never, never…Oh my God, that is unthinkable," former IRS Commissioner Jerome Kurtz told the paper when asked if he would have delayed collections efforts on account of election concerns. Ex-Commish Donald Alexander responded that "he would never have even thought about delaying enforcement because of an election," and former Commissioner Sheldon Cohen "said it was wrong to delay any broad-based enforcement actions because of a pending election."

IRS employees who recall Charles Rossotti, Mr. Everson's immediate predecessor, might not be surprised to learn that his response to the news was, "That's not appropriate…given the culture of the Treasury and the I.R.S., I just can't imagine anyone would even bring anything like that up."

Cynics might be reminded of the police chief in Casablanca who shuts down Humphrey Bogart's café with the announcement, "I'm shocked, shocked to find that gambling is going on here!" right before he is presented with his nightly winnings from roulette. But things have changed. The bar is being lowered here, if Watergate-age assumptions toward the interconnectedness of politics and tax collection are accepted so lackadaisically in the current era by the folks at the top.

The Commissioner's concession that politics are a factor in the decisions made by the Agency likely diluted this news story, because Mr. Everson candidly asserted that this confession was not news. His stance is refreshing for a government official, but wrong.

The Times described the Commissioner as having "close ties to the White House," and Mr. Everson's assaults on the union—and his mad rush to outsource collection functions—underscores that here is a man with an agenda.

Who bases their vote on the policies of the Commissioner of the IRS? Sadly, Mr. Everson's admissions in The New York Times—and his approach to managing the Agency—help to erase the line between electoral politics and professionalism in government.

Yes, things have changed.
---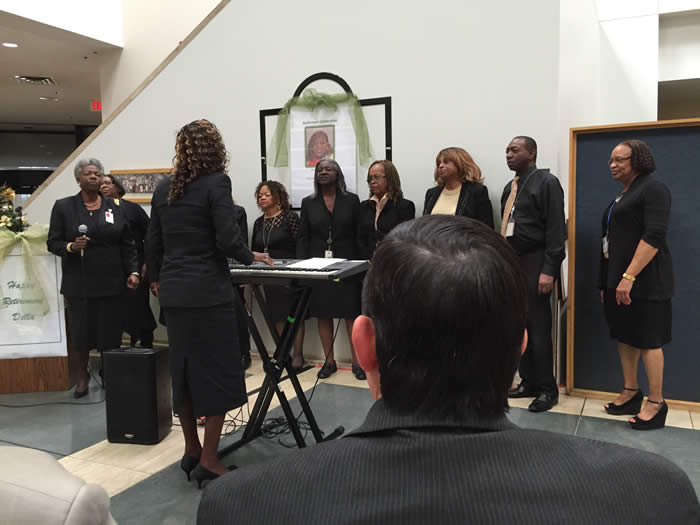 "THE GOSPELS OF DAVE, DICK, AND CHARLES"
by EDDIE WALKER, Chapter 247 President
IRS Directors Oppose Gospel Music Performance
During Black History Month

Austin Campus Directors Dave Boose, Dick Auby, and Charles Washington, with the assistance of Site Coordinator Brenda Ray, have inaugurated a groundbreaking policy when it comes to free religious expression by employees—they're agin it.

The IRS Gospel Choir, made up of Austin IRS managers and bargaining unit employees, has performed at the Service Center for 25 years. This year, the Directors put the kibosh on the choir's celebration of Black History Month by banning them from the two Campus cafeterias.

Brenda Ray claimed to NTEU that it was her vigilance that resulted in management shutting down the celestial sounds. According to the Site Coordinator, "one or two" employees complained that they found the religious sub context of the Gospel Choir's program to be offensive. Those employees said that they had no alternative to eating in the cafeteria during the one day that the Gospel Choir would be performing.

Brenda's research of the issue led her to review the federal Guidelines on Religious Exercise. In her reading, policy prohibited any government endorsement of a public display of religion. If the Gospel Choir wished to sing, they would have to go underground like the Christians of old. They would be permitted to perform in cramped training rooms in the Submission Processing and Customer Service buildings, with bad acoustics and less accessibility to employees. According to Brenda, she had sought and received the "blessing" of the Directors for the new policy.

Chapter 247's view is that gospel is distinctly American music, and that the performance of the Gospel Choir as an event is more cultural than religious. Gospel is the historical basis for much of our secular music. Any inspiration that folks receive from the sounds of their fellow employees singing up a glorious storm is entirely their own business. Which is what freedom is all about.

The performance of the Gospel Choir would have been the centerpiece of the Austin Service Center's Black History Month celebration. Gospel itself celebrates the triumph of joy over adversity, a central theme of Black History Month.

Black History Month has been under attack here for a few years, ever since Accounts Management Director Charles Washington began consistently denying Administrative Time to employees to participate in BHM events.

In fact, Charles has one-upped the other directors on the issue of religious expression. For the past two seasons, he has included Good Friday on his list of "leave denial days." Charles' approach is to bar every single employee from taking off during his or her leave denial days, no exceptions.

In a meeting between Charles and his staff and Chapter 247 leaders this year, Charles gave ground on leave, granting Spring Break to employees. He opined long and hard in his distinctive style, however, that Good Friday did not merit special consideration for leave. In defense of Charles' position, an AM Operation Manager told NTEU that it was unfortunate that Good Friday had to fall at such an "inconvenient" time during the Peak Season. NTEU charitably held its tongue, although each chapter leader was secretly marveling at this statement and musing bitterly, "Yes, too bad that Christ had to be crucified at a time inconvenient to your business needs!"

Charles ended by promising NTEU that his management would consider Good Friday leave on a case by case basis. This resulted in some managers questioning employees about the address of the church where they would attend services, how many hours the services would last, etc.

Is there a hostility to religion that management has been harboring that is sometimes seen but not heard? Or is it that any thing that belongs exclusively to the individual—that resides in the individual's heart and mind alone—is subconsciously considered to be an intrusion on the right of management to control the employee's work life?

Most employees would maintain that it is our deep-seated birthright as Americans that management not stick its noses into our inner lives.

NTEU says, "Amen" to that.
---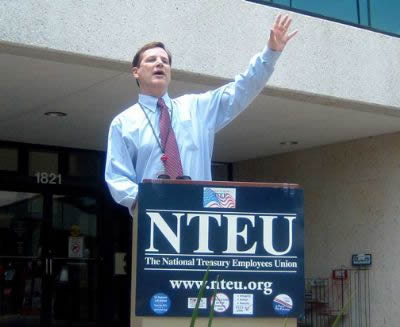 STATE OF THE UNION III: "Reversal of Fortune"
by EDDIE WALKER, Chapter 247 President
NTEU Chapter 247 Thrives In Spite of Management Attacks
The state of our union is sound. NTEU Chapter 247 is larger, stronger, and more effective than at any time in our history. Our stewards are better trained and more determined than ever before. Our members are more involved and more confident of the ability of their union to have a positive impact in the workplace.

At a time when federal employees and federal employee unions are under attack, Chapter 247 is thriving. Our once sleepy little chapter has fought the powers that be, and we have experienced a stunning reversal of fortune.

"First they ignore you."

Three years ago, when the current chapter team was elected to office, management was disinterested in working with 247, as opposed to working us. They expected that we would be co-opted and roll over, or that we would get mad and go away, or that we were never really serious to begin with. They did not believe that we could keep our campaign promises—they probably didn't even believe that we were interested in keeping them. They had no idea how far we were willing to go to succeed against odds that we knew going in were possibly insurmountable.

Those first days were a challenge. Our job was to carry the boulder up the hill, knowing that there was an excellent chance that we would be back at the bottom by the end of the day. Management believed that we could not figure out how the game was played. They believed that they alone knew the rules, and that the union had no choice but to follow their rules. They believed that we would remain irrelevant.

"Then they laugh at you."

The new Chapter 247 leadership rejected the notion that we were left to rely on the small kindnesses of management, and that it was somehow rude or "bad form" to fight for the rights of employees. Our first instinct was to settle disputes the easy way; if that didn't achieve results, we didn't hesitate to move on to Plan B.

We resisted management's attempts to maneuver us into negotiating our local Alternative Work Schedules agreements out of existence. Instead, we stuck by our guns, through the arbitration process; through management's unsuccessful appeal to the Federal Labor Relations Authority; through the Accounts Management Director's failed efforts to resist implementation; and through management's harassment and union busting tactics.

"Then they fight you."

The chapter's most important actions were those we took to build support among employees and boost membership. We increased the flow of information to employees. If management insisted on behaving badly, we exposed their actions to our members, through our newsletter and through flyers, posters, and even video. We reintroduced informational picketing to the Austin Campus. As Justice Brandeis expressed it, "Publicity is justly commended as a remedy for social and industrial diseases. Sunlight is said to be the best of disinfectants; electric light the most efficient policeman."

"Then you win."

With the return of Toll Free employees to their original, early morning Tours Of Duty, and the comeback of the ACS nightshift, Chapter 247 achieved what it set out to do: to prove that a determined, steady group of individuals with a common interest can join together to fight City Hall and win. When that happened, we truly turned our world around.

We, as a chapter, have moved beyond cynicism and established a model for future action. When NTEU refused to go away, management eventually discovered a way to work with us. We have more cooperation with more campus operations than we have had since the unfortunate, unilateral announcement in 2001 of the "death" of partnership between the IRS and NTEU. And as for those in management who continue to ignore the needs of employees—and the input of the employees' representative, NTEU—it's time for them to get out of the way.

When we had little else, 247 took solace from Gandhi's quotes above. They lay out the traditional stages of opposition from those in power when they face those who seek to defend human rights and diminish injustice. Here, on this spot, Chapter 247 will continue to stand up for employee interests, big and small.
---
Click here to see the video version of this speech, "Leave No One Behind ."

RALLY AT FEDERAL BUILDING, Austin, Texas: "LEAVE NO ONE BEHIND"
by EDDIE WALKER, Chapter 247 President
Union Protects America Against
Outsourcing of Jobs

NTEU Chapters 52, 72, and 247 united for a Legislative Rally at the Federal Building in Austin attacking the outsourcing of federal jobs. The crowd joined with Chapter 247's president as he spoke, shouting NTEU's slogan: Stand up, speak out, fight back!
NTEU members…At this incredible, frightening, fascinating time in our nation's history, this is the time for us to ask: What is our country all about?
When our fighting forces are out there, in a far off land, taking a stand for freedom—our freedom, or another people's freedom—it is our unshaken determination that we leave no one behind.
In our workplaces, the duty falls upon us—NTEU—to protect freedom and dignity, and to leave no one behind.
How have we come to this? The attacks on our union, on our members, on federal employees, on human dignity itself?
NTEU represents the former Customs employees who help make up the Homeland Security Administration. Our opponents have said that our members are not sufficiently patriotic…us!…to trust us to protect the security of America…America! Our country! Our homeland! Our America!…and to retain our rights to influence our working conditions…and our freedom…and our dignity.
Shame on them!
We are the ones who have stood up for Americanism in the workplace, while our presidents—and their political appointees—have taken a vacation.
As representatives of federal employees, we have power—but management doesn't want us to use it. They tell us that we are children, who possess this awesome, stumbling power to rise up…and touch the top of the stove! They promise us that we will be burnt.
I can't resist using a cliché here—"Curiosity killed the cat…but satisfaction brought him back."
We know, that to reach upwards is to touch, to grab, to hold on to those things that will make us strong: Control over our jobs, our futures—for ourselves and our families.
I promise management: We will continue to reach.
Yet, what have we been told?
Sit down, shut up, and give up!
What is our answer? Stand up, speak out, fight back!
When it comes to outsourcing our jobs to politically connected companies, here and abroad, whose first loyalty is to profit without responsibility to the taxpayer, without an obligation to their employees, without regard for taxpayer privacy—or to public service—without putting up their hands and taking an oath, as WE do…What is our answer? Stand up, speak out, fight back!
When it comes to under funding our agencies and under funding our need for health care…What is our answer? Stand up, speak out, fight back!
When it comes to denying us a fair pay raise, when it comes to insecuring our retirement…What is our answer? Stand up, speak out, fight back!
When it comes to stripping us of our union rights, to denying us the rights to third party arbitration, to negotiate, and even to air our grievances to an open-minded party…What is our answer? Stand up, speak out, fight back!
Before I was a union president, I was a singer, and a songwriter. A songwriter lives inside himself. He slowly, finally, learns how to project himself outward. First, you find your soul. Then you find your heart. And finally, you find your voice.
One who long ago found his voice—Bob Dylan—writes in his new book, "Chronicles": "I'd come from a long ways off and had started a long ways down. But now destiny was about to manifest itself. I felt like it was looking right at me and nobody else."
Well, destiny is looking right at us—the American labor movement—and nobody else.
And how will we answer? Stand up, speak out, fight back!

---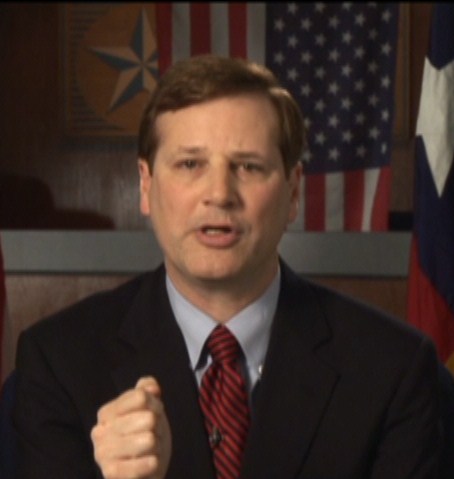 "WE BEGIN AGAIN "
by EDDIE WALKER, Chapter 247 President
Chapter President Speaks Truth To Bosses
Eddie was invited by Director Frank Jugo to address the 2009 Austin Accounts Management Leadership Conference, a gathering of all local AM managers.
Abraham Lincoln told a lot of stories, and of course, he was credited with more stories than he actually told, but here's one of them.
Today I feel a little like the Illinois man who was confronted by a local citizens' committee and threatened with being tarred and feathered and run out of town on a rail. The man responded to the assemblage by saying, "If it weren't for the honor of the thing, I'd just as soon it happened to someone else."
But seriously, folks, I want to thank Frank for the invitation to come and speak to you.

I have the greatest job. The greatest thing about the greatest job is that everyday I begin with another opportunity to help someone.

And the same is true for you, the first line manager.

It is within your power to lighten the burden for your employees, to be a major player in their success. It has often seemed in recent years that you have not been entrusted with a lot of flexibility or much authority to manage your teams, but you have always had just enough autonomy to ease the load or grease the skids—and that's something. NTEU applauds those of you who have earned the respect and merited the gratitude of your employees by the deliberate—not random—acts of kindness that you have shown toward them.

Frank has asked me to speak to you today about the important issues that face employees, from the employees' perspective. And, at his urging, I have solicited the input of our other Chapter Presidents from the Dallas and Denver call sites…and together, we would have to agree that the three major issues affecting employees in Accounts Management are:

Tours of Duty…Leave…And Leave Me Alone.

Leave Me Alone means don't micromanage me…don't treat me like a child…don't let me catch you hovering over me while I'm working. This attitude of independence has a long and respected tradition. The Founders of our nation, after all, said, "Don't tread on me." Perhaps the current struggle in the workplace seems minor in comparison to the trials of our ancestors, but, in the vernacular of today's self help society, what employees want is, "Don't stress me out, Dude." We know that many of our workers are self-starters…they don't want and they don't need a kick or a shove to do their jobs. They insist on their distance in order to flourish. This view has to be appreciated.

Yet many other employees demand help—the "tools to do their jobs," as we like to say. With a little well-directed assistance, they will come through for you. Their complaint is, "Don't go out of your way to 'ding' me. Don't look for me to fail." Rather, they say, "Help me to make good." Answering the call to help employees succeed is truly the mission of the manager.

And still other employees need help, whether they know it or not. That's a tougher nut to crack, but again, it is the job of the manager to motivate, to inspire, to go the extra mile; I have seen it done. We have to encourage employees to ask for help, to trust us to help them—and we have to deliver, with training, with mentoring, with a little patience. That's the way it was when I started here…the understanding that it takes a while for an employee to "get" the job.

One of the most frequent gripes I get these days concerns CPE 5. There is really a very negative visceral reaction from employees to concentrating on numerical goals. There continues to be a culture in the workplace that resists the obsession with case closures versus quality. Fifty years from now, perhaps when paper has ceased to exist, when computers and data in formats that we cannot conceive of today are the standard—employees will still tell the story about the days of "when we were on production," when people hid paper cases up in the ceiling tiles because they couldn't keep up with the quotas. Did that ever actually happen? People believe that it did. It rings true. This lingering belief by employees that management is looking to cut corners is a problem that first line managers can attack, just by lowering their own stress levels and not projecting them on to their employees—no matter how anxious your management chain is this week, and how they want you to do the impossible.

The impossible is what our employees do everyday. The demands are constant, the priorities are changing—yet Austin Accounts Management employees hit it out of the park more consistently than Babe Ruth did "back in the day." Can we rely on them? Yes! Enough said about that…

Leave…leave has been a giant dilemma for our employees in recent years, but I'm happy to say…no longer. Frank has eliminated leave as a point of contention. He has taken NTEU's position into account, he has reexamined the controversial policy—which was not his idea to begin with—and he has taken the issue off of the table. That's an impressive feat, a job well done. Thank you, Frank.

What problem will we tackle in the days ahead? Tours of Duty—that's an issue that we're dealing with now, an issue that we haven't settled. Let me tell you where I think that's going.

President Reagan said—that's right, Ronald Reagan, a longtime union member and leader—said, in 1982, "alternative work schedules [have] a very positive effect on the morale of employees, who [are] able to adjust their work schedules to meet personal needs. This [is] particularly important to working mothers who [use] the flexibility in scheduling work hours to help them meet their responsibilities both at home and in the office…" Reagan also said that "It is especially rewarding to support a program that allows people to recapture some of the benefits of close family ties in an era when employment trends have been pushing us the other way."

Now that's a man who could see the future, when he signed the Federal Employees Flexible and Compressed Work Schedules Act of 1982. 27 years later, we are ready to claim that promise on behalf of federal employees. Last year, House Majority Leader Steny Hoyer was pushing a work week of four, 10-hour days for federal employees, noting that "state and local governments across the nation…are implementing 4-day work weeks to conserve energy, reduce fuel consumption, and alleviate congestion." Before the government's recent change of hands, OPM had declared that "federal employers will have to offer employees more flexibility in their work lives if they are to successfully recruit and retain qualified workers."

At our recent NTEU National Convention, the guest speaker was the new head of OPM, John Berry. He is not looking to outsource government jobs. He is a champion for federal employees. At the Convention, he reminded us that Neil Armstrong was a Grade 14 federal employee when he walked on the moon. That's Grade 14 for a man and one giant Step Increase for mankind.

John Berry told us that President Obama called him up to offer him the position of OPM Director and informed him that Mr. Berry's job would be to make government service "cool" again. Well, considering that I have done my part to promote the slogan of this city—"Keep Austin Weird"—to scores of out-of-towners, I believe that I am totally up to the task of supporting the concept of "Make Government Cool." If that should be our mission, I am all over it.

According to the plans of the new Administration in Washington, John Berry will chair the National Council on Federal Labor Relations, a successor to the National Partnership Council, which many of you will remember, and which was eliminated eight years ago. The purpose is to involve employees and the union in the process of identifying and finding solutions to federal workplace problems; to participate in pre-decisional input; and to encourage cooperation between federal employees and management. The ultimate goal is to improve government service to the taxpayers.

A new executive order by the President will recognize—and I am quoting from a recent draft—that "Federal employees and their union representatives are an essential source of front-line ideas and information about the realities of delivering government services to the American people." It goes on: "A non-adversarial forum for managers, employees, and employees' union representatives to proactively discuss government operations will complement the existing collective bargaining process and facilitate the design and implementation of the comprehensive changes necessary to increase the effectiveness and efficiency of Government."

It sounds like a lawyer composed that dry, unmusical description. But it is poetry to my ears.

We're talking about partnership. But one thing all sides have agreed upon is that we won't call it partnership. One proposal has been to name this new approach "alternative hate relationship." Another popular suggestion has been "non-sustainable state of hostility." Perhaps the front runner is "the alliance that dare not speak its name." Woodrow Wilson spoke about relations between nations as a "community of power." Maybe that's the best way to characterize it. Still, we will soon be bound together and asked to march in the same general direction.

For the past year, Frank and I have worked together to strengthen the relationship between management and the union. Many other sites have not put the effort into it that we have. As a result, they will be the ones who will have to catch up with Austin Accounts Management.

If we are to have a National Council on Federal Labor Relations, that means that management and labor will be collaborating on working conditions and work processes, on achieving business goals and personal goals for our employees. There will be teams and committees and involvement for both managers and employees.

And while we're talking about the future…

Let me introduce to you the newest National Vice President of NTEU…Julia Miller. Julia is one of 15 National Vice Presidents representing 31 federal agencies across America. She was not just promoted to the job—she was elected by her peers, her fellow Chapter Leaders…the Presidents and Vice Presidents of Chapter 66 in Kansas City, of Chapter 67 in Ogden, of Chapter 72 in Austin, of Chapter 97 in Fresno, and of course, Chapter 247. Together, these Chapters represent one sixth of the membership of NTEU, and when Julia travels, she takes along with her the experience, and the values, and the audacity, if you will, of Chapter 247. When the Executive Board of NTEU meets in Washington, DC to determine which policies it will follow, Chapter 247 will have a seat at the table.

That means the buck starts—and doesn't stop—here, in Austin. That means that we will be charged with the responsibility to help design what cooperation between the Agency and NTEU looks like…As an agency, we're already seeing resources that we haven't seen for a while.

You first line managers…Most of you have been members of Chapter 247…Most of you for longer than I have, in my relatively short career in the public sector…You know how this works.

Many of you came up to me last year, when I attended Frank's installation as Director…You were happy, that change had come, that a new spirit had arrived, that NTEU was back, ready to share the table again.

Change has come. Today we begin again. Thank you.
---
Here are a number of links that could prove valuable to you as a federal employee. Go ahead. Explore. Knock yourself out.